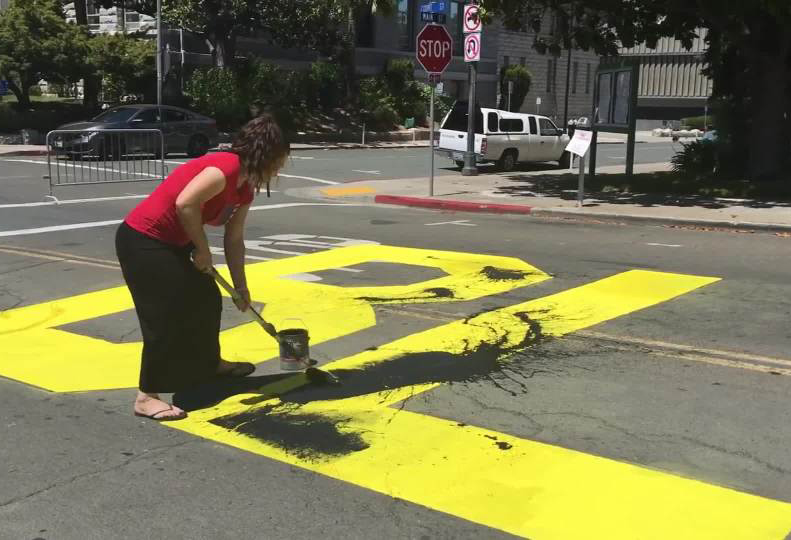 George Floyd, an African-American man, was killed by a white police officer on his knees on the 25th of last month, triggering anti-racism and anti-police demonstrations around the world. Locals have launched "Black Lives Matter" (Black Lives Matter) , Referred to as BLM) movement, the words "BLM" are written on many major urban streets. A pair of white men and women in Martinez, San Francisco Bay Area, California, smeared the word "BLM" on the street with black paint last Saturday (4th). They were charged by the authorities with violations of civil rights, vandalism, and There are 3 counts of possession of vandalism or graffiti tools.

According to the Prosecutor's Office of Contra Costa County in the Bay Area, the phrase "BLM" on the road in front of the Wakefield Taylor Courthouse in downtown Martinez, by local residents in July After applying for and approving the permit on the 1st, it is drawn on July 4. On the same day, a passerby photographed a pair of white men and women using rollers and black paint to cover part of the letters on the street. After investigation, the two men and women were identified as 53-year-old man Nelson (David Nelson) and 42-year-old woman Anderson (Nicole Anderson).

Allegedly, Nelson and Anderson broke the slogans on the street last Saturday, in which Nelson had a quarrel with passers-by, and that racial discrimination was a left-wing lie.

The police allege that the two were accused of infringing civil rights, vandalism under $400; vandalism or graffiti tools. The District Attorney's Office stated that these were minor offences and that once convicted, they would face one year's imprisonment in the county prison.

Prosecutor Diana Becton mentioned in a statement that the root causes and side effects of systemic racism must be addressed. The "black life is also life" movement is an important civil rights event that deserves everyone's attention.